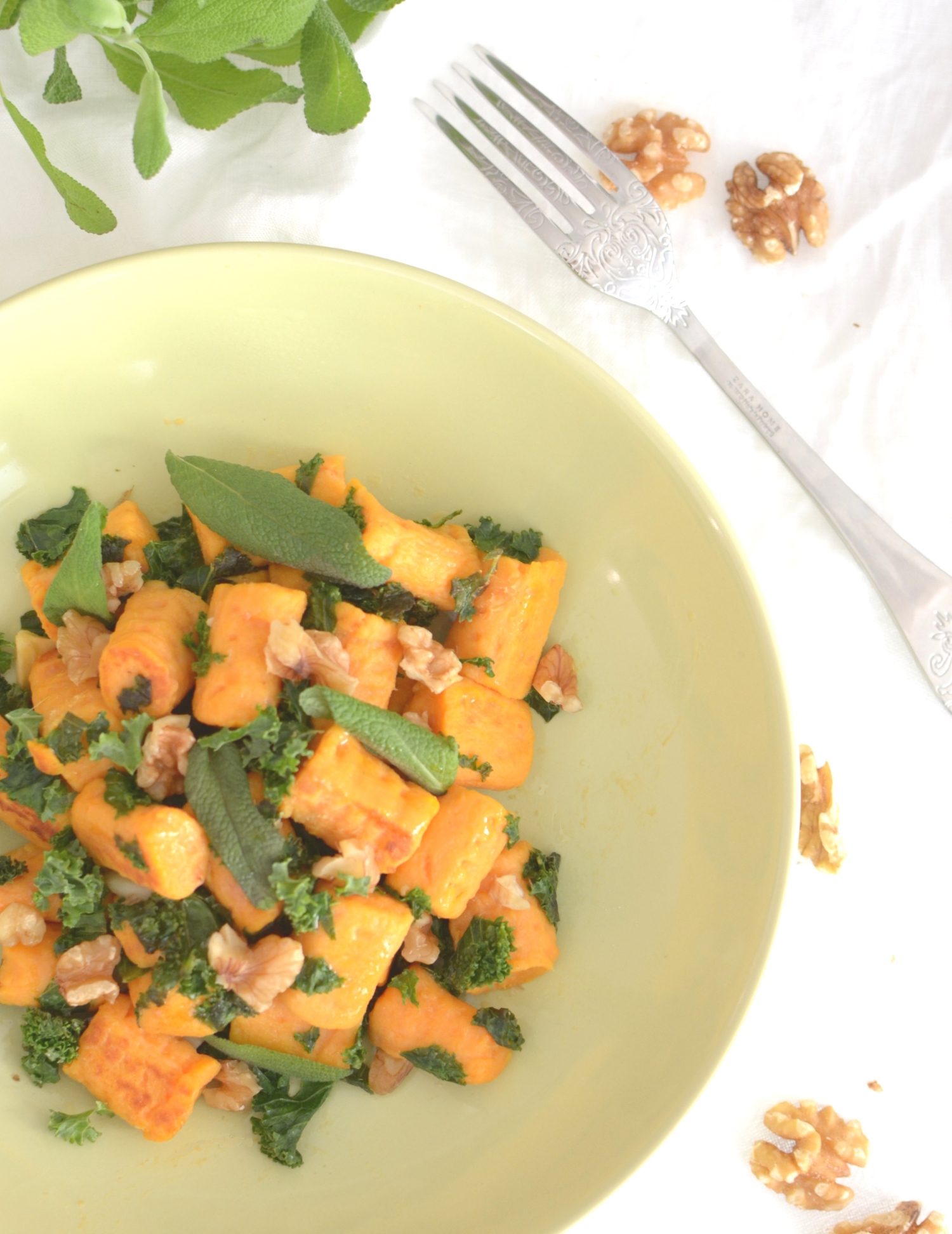 Sweet potato gnocchi is one of my top comfort food. Until recently, I had never attempted homemade gnocchi. I imagined it would be a long and complex process. In fact I was surprised how easy it was to make! Plus there are shortcuts if you crave for gnocchi as your weekday diner. Sweet potato gnocchi are incredibly tasty, with their slightly nutty flavor and pretty orange color. That flavor is what brought me to toss my gnocchi with crushed walnuts, plus kale for super healthy greens, and fragrant sage.
I love gnocchi soft and pillowy inside, but crisp outside. So I typically roast them in garlicky ghee for a delicious butter flavor. Olive oil works well too if you prefer to go dairy free. Now there are different views on whether to add eggs to the gnocchi dough or not. I chose to add an egg in this recipe because I use gluten free flour. The egg act as a binder that make the dough easier to handle.
Before you get started, let me give you a few tips:
Bake your sweet potatoes in the oven rather than boil them. It will reduce the moisture and this way you will need less flour. Punch some holes and bake about 45 minutes. If you are in a rush, steam them rather.
Limit the flour: the more flour, the more dense gnocchi are, and the less you will taste the sweet potato flavor. I noticed that it is best to let the mashed potatoes and flour mixture cool down before rolling and cutting your gnocchi: the warmer the dough is, the more difficult to manipulate it, which brings you to add extra flour.

Indentations (which I simply do with a fork) is not a must: the little ridges look pretty and help soak up the sauce. However, unless you want to impress your guests, you can skip that step and your gnocchi will be just as delicious – and twice faster to make.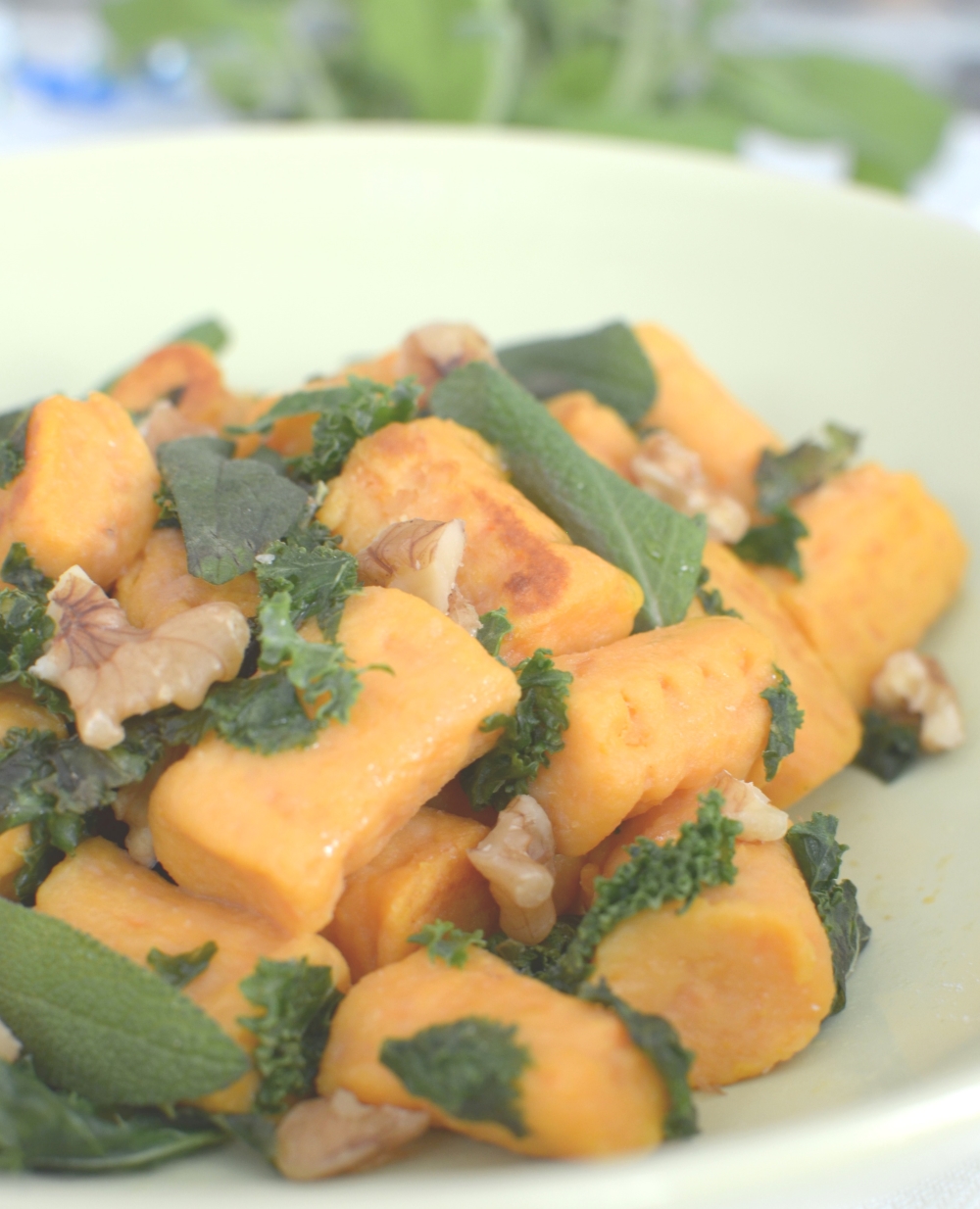 Easy Sweet Potato Gnocchi With Kale, Sage And Walnut
Tasty and comforting gluten free sweet potato gnocchi, tossed with healthy kale, fragrant sage and crushed walnuts. All pillowy inside, and crisp outside.
Author:
Chocolate & Quinoa
Cuisine:
Gluten Free, Dairy Free, Italian, Vegeterian
Ingredients
3 medium sweet potatoes / 600g cooked mashed potato
90 g brown rice flour
60 g tapioca starch (or potato starch)
2 tbsp olive oil
1 egg
Pinch of nutmeg
150 g shredded kale
2 garlic cloves
Chopped fresh sage plus extra leaves for garnish
Handful of walnuts
Ghee or olive oil
Salt and pepper
Instructions
Preheat the oven 200 degrees. Wash and poke the sweet potatoes with a fork and bake until tender, about 45 min, 200 degrees.
Cut them in half, scoop out the flesh and mash it in a bowl.
Stir in the egg, oil, salt, pepper and nutmeg until combined. Mix in the flours, use a fork or knead with hands until a soft dough forms.
Lightly flour your work surface and divide the dough into 4 portions. Take one portion and roll it into a rope on your work surface, until it is about 2 cm thick. Cut the dough into pieces. Do the same with the other portions.
Using the back of a fork, press each gnocchi to form indentations. (optional)
Bring a large pot of salted water to a boil. Cook the gnocchi until they all rise to the top, then drain.
In the meanwhile warm up about one tablespoon of ghee (or olive oil) in a saucepan and cook the chopped kale about 5 minutes. Set aside.
Melt an other spoon of ghee in the saucepan, add the garlic cloves sliced in two and chopped sage leaves.
Toss the gnocchi in the saucepan and cook until they are crisp (I do it in two batches).
Stir in the kale and serve with chopped walnuts.