"How do you come up with your recipes?" a friend asked me recently. Quite often a seasonal ingredient is inspiring me, such as luscious figs currently in the markets, and it all begins there. Baked in a pie, like in this indulgent fresh fig and almond cream pie I made last year? Turned into jam? As a pizza topping? Today I fancied a warm comforting fig crumble, as the cold days start to settle in Finland. (Recette en français à la fin de l'article)
I don't love figs when served raw on their own, they are a tad tasteless to me. But cooked figs, warm and slightly jammed, oh what a treat! In this recipe I paired figs with hazelnut, an other autumn ingredient that compliments well fig sweetness – and happened to be in my pantry (sometimes recipes are simply inspired by ingredients at hand!).
Just before preparing the figs, I thought I'd take a picture of the fresh fruits and their beautiful shades of purple. My 4-year old son tried to snatch a fig during the photoshooting, and that picture with his cute sneaky hand became my favorite shot to share with you!
I truly believe that eating gluten free is a wonderful opportunity to explore new flavors and flour types. So whenever possible, I swap the classic rice flour for more nutritional and tasty alternatives. Hazelnuts lead me to think of a nutty flour, my beloved quinoa! See how my mind works. I jump at every occasion to add quinoa to a recipe (there is a good reason why my blog is called Chocolate & Quinoa after all). 
My crumble combines both quinoa flour and quinoa flakes, that add extra crispiness. No sugar or butter used here, I preferred neutral coconut oil and maple syrup for a healthier take on the traditional crumble.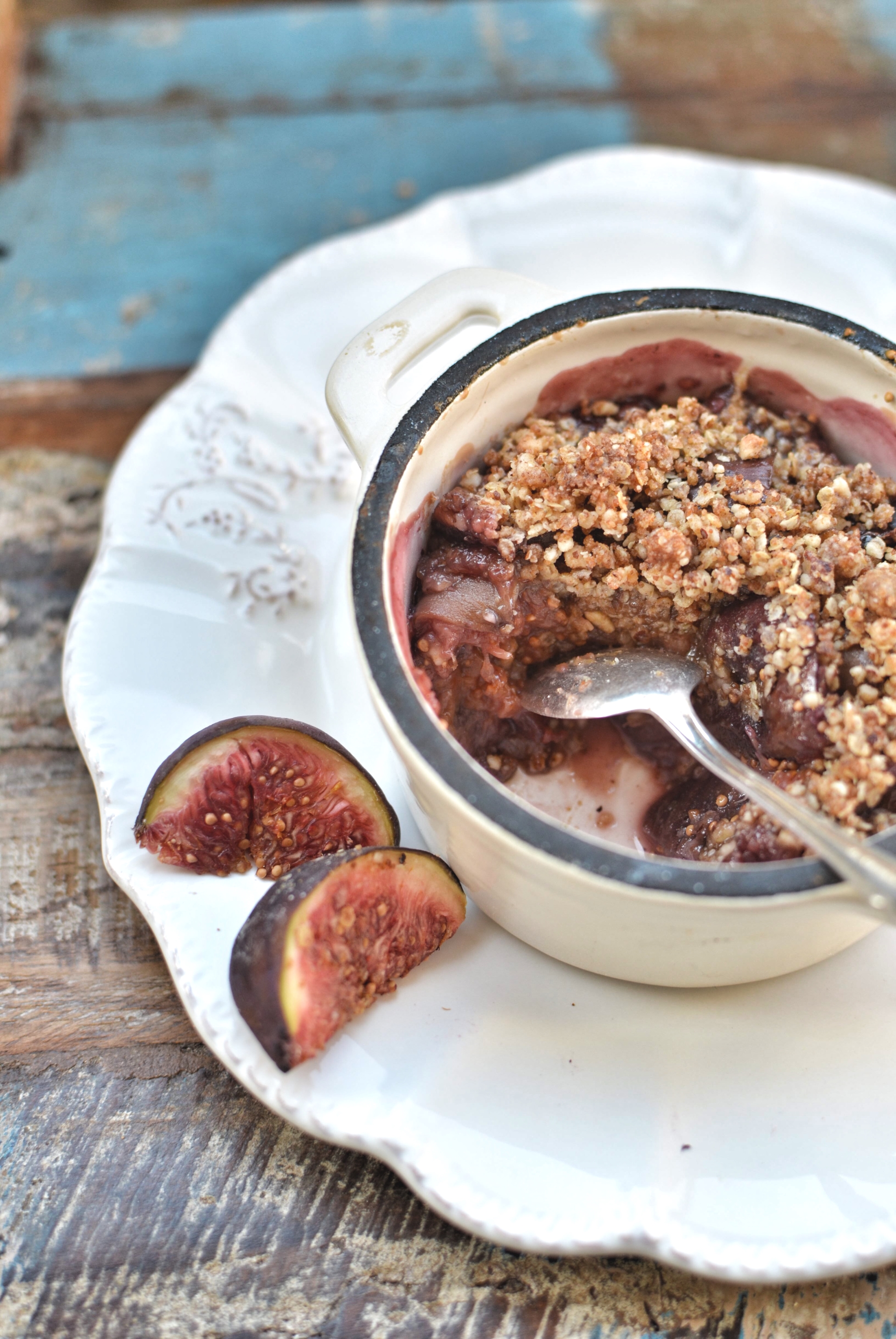 This is a no-fuss yet delicious crumble I like to serve as a dessert, preferably in individual portions. No extra yogurt or cream topping for me, as not to mask any flavor of all my carefully chosen ingredients. Hope you enjoy!

Fig Crumble With Quinoa-Hazelnut Topping
Gluten free and vegan fig crumble, with quinoa flakes and hazelnut topping. A fruity seasonal dessert prepared with coconut oil and maple syrup for a healthier take on the traditional crumble.
Author:
Chocolate & Quinoa
Recipe type:
Breakfast, Dessert, Crumble
Cuisine:
Gluten Free, Vegan
Ingredients
12 figs
30 g quinoa flour
30 g quinoa flakes
50 g hazelnut meal
30 g neutral coconut oil
3 + 1 tbsp maple syrup
½ tsp vanilla powder
Pinch of salt
Instructions
Preheat oven to 175 degrees.
Prepare the crumble: in a bowl, combine quinoa flour, quinoa flakes, hazelnut meal and salt. Stir in coconut oil and 3 tbsp maple syrup. Use a fork to mix everything together, creating a crumbly texture.
Wash the figs, trim the tops and slice them in 8. Place the figs in a saucepan with vanilla powder, 2 tbsp of water and 1 tbsp of maple syrup. Stir to coat the figs. Bring quickly to a boil, then lower the heat to a gentle simmer for about 5 minutes.
Fill four small oven proof ceramic bowls with the figs.
Sprinkle the crumble over and bake about 20 minutes. Let it cool down a little before serving.
Crumble Aux Figues, Quinoa et Noisettes
Crumble sans gluten aux figues, noisettes et flocons de quinoa. Un dessert à la fois délicieux et sain, préparé avec de l'huile de coco et du sirop d'érable.
Author:
Chocolate & Quinoa
Recipe type:
Breakfast, Dessert, Crumble
Cuisine:
Sans gluten, végétalien
Ingredients
12 figues
30 g de farine de quinoa
30 g de flocons de quinoa
50 g de poudre de noisettes
30 g d'huile de coco neutre (désodorisée)
3 + 1 càs sirop d'érable
½ cc vanille en poudre
Pincée de sel
Instructions
Préchauffer le four à 175 degrés.
Préparer le crumble: Mélanger dans un récipient la farine de quinoa, les flocons de quinoa, la poudre de noisettes et le sel. Ajouter l'huile de coco et 3 cuillères à soupe de sirop d'érable. Mélanger à l'aide d'une fourchette jusqu'à obtenir un mélange sableux humide.
Laver les figues. Les couper en 8. Placer dans une poêle avec deux càs d'eau, une càs de sirop d'érable et la vanille en poudre. Cuire pendant environ 5 minutes pour enrober les figues et les faire fondre.
Remplir quatre ramequins de figues. Parsemer de crumble puis mettre au four pendant environ 20 minutes. Laisser refroidir quelques minutes avant de servir chaud.