When I realized I wouldn't eat gluten anymore, one of the first thing I worried about was pasta. I cannot imagine a world without pasta. Off-the-shelf dry pasta are usually made of corn or brown-rice flour – corn-based being the worse alternative to my opinion, really it's nowhere close to the 'real' pasta. There is nothing wrong with store-bought brown rice pasta, at least to get started. Taste and texture are decent, if tossed with a fragrant fresh tomatoes, garlic and basilica sauce. It does get dull after a while, let alone the low nutritional value since it consist only of one ingredient, brown rice. The next step was naturally making my own gluten free fresh pasta. I wishd to use ingredients as close to those found in traditional pasta dough: eggs, flour, extra virgin olive oil and a pinch of sea salt, no more, no less.
Actually, it's not that simple: I quickly learned that gluten free dough calls for a mix of several flours, and it is the right blend of flour which gives the best results. Gluten free flours fall into three kinds of weight: Light starchy flour, such as tapioca starch, corn starch, arrow root or potato starch; Medium such as brown rice, sorghum or oat flour; And heavier whole-grain like buckwheat, quinoa or teff.
In my gluten free fresh pasta recipe, I use a 70% flour + 30% starch ratio, which has proven successful in other baking experiences. Wheat flour is partly protein, which is found in whole-grain flours, and partly starch which is why starchy flour is used in my gluten free flour mix.
For my first ever fresh pasta preparation, I simply scooped organic brown rice flour and tapioca starch (tapioca starchiness adds structure and chewiness to the pasta dough), and mixed them with organic eggs, olive oil and sea salt. At the time I didn't have a pasta machine, so I simply sliced fettucine with a knife, threw them in boiling water, et voilà!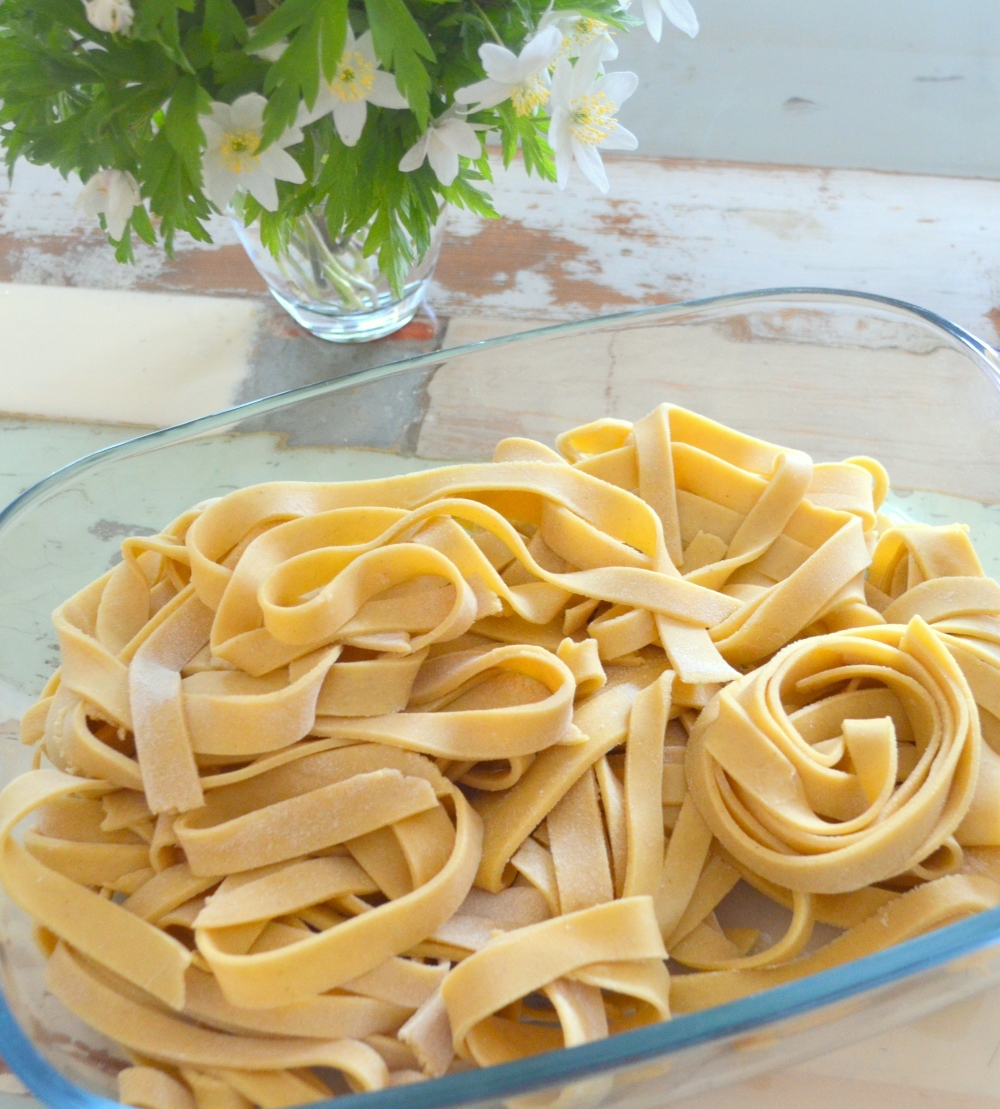 I could eat my first fresh pasta since getting rid of wheat flour, and the result was satisfying, hurray!
Yet for my next try, I wanted to add slightly more structure and firmness to the dough, which called for an extra ingredient: a binder. That's how Psyllium husk entered my kitchen and became part of my everyday vocabulary. If you wonder what is behind that strangely-named substance, Psyllium is in fact a form of fiber made from the Middle Eastern plantago plant. Its role as a binder means the dough is less crumbly.
Recently I invested on this Marcato Atlas 150 pasta machine and I absolutely love it. I was a little worried at first that the dough wouldn't survive the cutting and it actually didn't the first time, because I used a too thin setting. When I got it right, the dough held nicely together, and with just a turn of the handle beautifully shaped tagliatelle were rolling out of the machine.
Once you master the gluten free fresh pasta dough, you can use it with all your favorite dishes. Tonight my fresh tagliatelle will accompany perfectly a delicious French style rabbit recipe, with thyme and tomatoes.

Gluten Free Fresh Pasta, with Psyllium
Make your own delicious gluten free fresh pasta by following this easy recipe!
Author:
Chocolate & Quinoa
Ingredients
200 g Organic brown rice flour
60 g Tapioca starch
1 tbsp Psyllium husk powder (about 7 g)
4 eggs
4 tbsp of olive oil (about 50 g)
Sea salt
A pinch of ground nutmeg (optional)
Instructions
In a large bowl whisk together the rice flour, tapioca starch, Psyllium husk, salt and nutmeg.
Make a well in the center, break the eggs into it, and stir the liquids with a spatula or fingertips gradually pushing the flour into the pool of eggs.
When the dough begins to form, add the olive oil and continue mixing.
Dust the counter with brown rice flour and knead the dough until smooth. The dough should be elastic and easily handled.
Wrap it up in plastic wrap and let it sit for at least 30 minutes.
Spread a little rice flour on your work surface. Divide the dough in four pieces and press it flat by hand.
Run the dough through the pasta machine twice to get a sheet of pasta. Start with the first setting and increase it progressively. Gluten-free pasta dough cannot be rolled as thinly as traditional pasta, so make sure not to use the thinnest settings otherwise the dough may rip. I use 3 or 4 as a maximum setting on my Marcato Atlas Wellness 150 machine.
Dust the pasta sheet with flour, and trim the edges to neaten them.
Place the sheets through the tagliatelle setting of the machine. If you are not in a rush, let the tagliatelle dry for about 15 mins before cooking them.
Bring a pot of salted water to boil. Cook the pasta about 2-3 minutes and strain. Serve immediately with your choice of sauce or topping.