Savoury Gluten Free Picnic Muffins With Goat Cheese, Dry Figs And Rosemary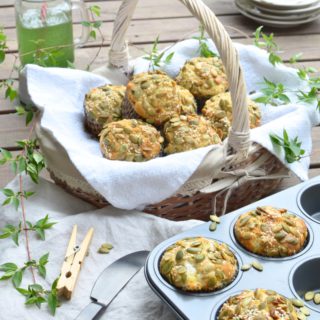 Author:
Chocolate & Quinoa
Recipe type:
Snack, Picnic
Cuisine:
French, Gluten Free, Vegetarian
90 g rice flour
50 g buckwheat flour
60 g potato starch
1 tsp (5g) psyllium powder
1 tsp baking powder
½ tsp baking soda
1 tsp salt
3 eggs
100 g extra virgin olive oil
100 g water
1 tsp apple cider vinegar (or lemon juice)
100 g dry figs, chopped in small dices
150 g goat cheese, crumbled
2 tsp dry rosemary herbs
Pinch of black pepper
Sesame seeds, pumpkins seeds (topping)
Preheat oven 180 degrees. Line a muffin tray with 10 muffin cases.
In a large bowl mix all the flours, psyllium, baking powder, salt, pepper and rosemary herbs.
In a separate bowl, mix the eggs, olive oil, apple cider vinegar and water.
Pour the wet ingredients into the dry ingredient and combine gently with a spatula until just moistened (do not overmix!)
Scoop the batter into the prepared muffin cases (which will be pretty full).
Sprinkle sesame and pumpkins seeds generously.
Bake about 20 minutes or until well risen and golden. Remove the muffins to a rack.
Savory muffins are best served warm.
Muffins are best eaten the same day. You can prepare the muffins in advance, and freeze them. After unfreezing them, you can warm them up 2-3 minutes in a preheated oven at 200 degrees before serving.
Recipe by
Chocolate & Quinoa
at https://www.chocolateandquinoa.com/savoury-gluten-free-picnic-muffins-with-goat-cheese-dry-figs-and-rosemary/