Almond & Cinnamon Christmas Biscuits (Flourless)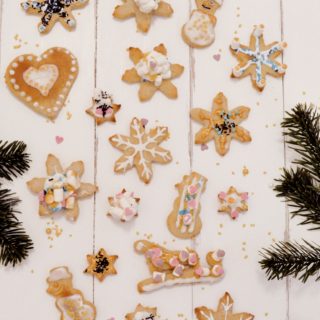 Author:
Chocolate & Quinoa
Cuisine:
Gluten free, dairy free
300 g almond flour
150 g powdered sugar (you can use partly homemade powdered xylitol for lower GI)
2 tsp ground cinnamon (or 1 tsp cinnamon and 1 tsp gingerbread spices)
2 egg whites
1 tbsp lemon juice
Mix together almond flour and powdered sugar.
Whisk egg whites until stiff peak. Stir in the the almond flour mixture, cinnamon and lemon juice, until it comes together as a dough.
Lightly sprinkle powdered sugar on the worktop and roll the dough out on it, to the thickness of ½ cm.
Using biscuit cutters, cut biscuits out of the dough and transfer to a baking sheet covered with parchment paper. Let them dry at ambient temperature overnight.
Bake the biscuits for 5 minutes at 20 degrees. Let them cool down on a wire rack. Have fun decorating them with icing sugar, confettis or even mini marshmallows!
Recipe by
Chocolate & Quinoa
at https://www.chocolateandquinoa.com/gluten-free-almond-cinnamon-christmas-biscuits-flourless/