We just spend magical days in Venice with my husband, and I'm going to tell you all about the gluten free food and places I enjoyed during our stay! Before any trip, I love reading about the local food, and see how gluten free friendly my destination is. From the articles and reviews I read, I felt confident that gluten free food options were plentiful in Italy, and that Venice would be an easy destination for gluten free eaters like me. It was true. Partly.
You will easily find 'naturally' gluten free food options in Venice, such as risotto or fish and meat-based dishes, served with vegetables or grilled polenta. The staff at every restaurant is well educated about gluten intolerance and will advise you on what you can or cannot eat from the menu.
However I was surprised that so few restaurants had actual gluten free pasta or pizza available. Besides, gluten free pastries were near to impossible to find, which can be frustrating when you walk by bakeries and cafes with tempting display in every street.
If you follow me on Instagram, you know that I've been literally hunting for gluten free pastries my whole stay, and I did find THE pastry shop on the very last day, hurray (keep reading)!
Now here is my gluten free Venice guide:
OSTERIA ENOTECA AI ARTISTI
This is one of my favorite restaurants in Venice: beautiful interior, fine food, excellent wine and attentive staff, a great experience! The venue is very small, and we were lucky to get a table without reservation. The restaurant fills up quickly, so it's a good idea to book ahead!
The beef cheek served with Brussels sprouts was very tender and delicious (one of the rare meat-based dish I picked in Venice, which cuisine features lot of seafood dishes).The restaurant does not offer gluten free pasta, so you won't be able to enjoy any primi piatti, the italian first course which consists of a pasta dish. However the waiter brought gluten free grissini as a snack, while we waited for our main course.
Osteria Enoteca Ai Artisti, Fondamenta della Toletta 1169/A, Dorsoduro, Venice
LA ZUCCA
'Zucca' means pumpkin, which is a specialty of this restaurant, located in Santa Croce district. The menu is only in italian and comes with a separate list of translated words. It does takes time to find your way through the menu, fortunately the staff speaked perfect English and helped us out. Whilst La Zucca has a reputation for catering to vegetarians, they also have a good selection of meat choices, like lamb cutlets or rabbit with white wine. For dessert I do recommend their delicious limoncello ice cream!
A nice feature of the restaurant is the door on the canal, that allows customers to come inside the restaurant directly from a boat. Make sure you book your table at least 2-3 days in advance. La Zucca is very popular both with locals and visitors, as it is considered one of the best restaurants in Venice.
La Zucca, Santa Croce 1762, Venice
AL CONTE PESCAOR
Located near the Piazza San Marco, this restaurant has a relaxed and authentic atmosphere, far from the 'tourist traps' you stumble upon in Venice. Al Conte Pescaor has a broad menu with gluten free options, such as pasta or even tiramisu!
Here you'll be able to order a primi, like this yummy seafood pasta which is part of the Menu Tipico!
Al Conte Pescaor, San Marco 544
 | 

Piscina San Zulian – Calle Specchieri

, 

30121 Venice, 

+39 041 522 1483

TRATTORIA POVOLEDO
On our final day we decided to have a quick lunch by the Grand Canal, just before hopping to a bus back to the airport. We wandered past Trattoria Povoledo, a restaurant our hotel recommended to us. At first glance, it looked like a place 'for tourists', with a member of the staff waiting outside by the door. However gluten free pasta was on the menu so we chose to stay, sitting on the terrace by the canal. The service was eventually excellent, and the food fresh and tasty!
I enjoyed my seafood pasta, served with a creamy tomato sauce and topped with a langoustine. (You see the restaurant terrace on the left side of the canal)
Trattoria Povoledo, Lista di Spagna, 122/Q, Cannaregio, Venice
OSTERIA AI 4 FERI
A little gem off the beaten path and one of my top 3 favorite restaurants in Venice! Here you seat at long tables with other guests, which creates a homey atmosphere. We sat next to two ladies living in Venice, a good hint that the restaurant serves authentic food! The waiter was happily speaking French with me and made great recommendations which were not on the menu.
As a starter, I went for a raw artichoke salad, topped with Parmesan and served with grilled polenta (at my request). I continued with a generous dish of tuna fish as the main dish. The food is excellent, and you'll find many 'naturally' gluten free options. Remember to book in advance!
Osteria Ai 4 Feri, Calle Lunga de San Barnaba 2754A, Venice, +39 041 520 6978
OSTERIA AL DUOMO
If you visit Murano island during your stay in Venice, don't miss Osteria Al Duomo! The restaurant was open in 1903 by a priest as a co-op grocery shop, and is now collectively owned by 50 Muranese families.
The waiter brought a separate gluten free menu, which had a large selection of pizzas. Don't be put off by the 4 euros extra added to regular pizzas' price. The waiter explained that they warm up a separate oven to bake their gluten free pizzas, and the end result was definitely worth!
Osteria Al Duomo, Fondamenta Maschio 20, Venice (Murano island).
GROM GELATERIA
This gelateria chain is certified by the Italian Celiac Association. Not only their ice cream is 100% natural, without colorant or flavoring, but the cones are exclusively gluten free and made in GROM own bakery! I went for a scoop of pistachio ice cream and an other of black chocolate. The flavors were amazing and I loved the chocolate and hazelnut toppings on the cone!
GROM has four branches around Venice, you'll surely find one on your way!
MAJER BAKERY
Finally gluten free pastries! Located just around the corner from La Zucca restaurant, Majer is split into two shops facing each others across the street. One shop is a deli, where you can enjoy small snacks and a glass of wine. The other is a wonderful bakery which offers several gluten free pastries options.

The Torta al basilico (left on the picture) is a fluffy sponge cake, baked by Majer's japanese chef. It is flavored with olive oil and basilic for a delicious italian twist, yummy! Other gluten free options were a chocolate and hazelnut small cake (rightest on the right picture), coconut macaroons (Pastina al Cocco) and Mandorle almond biscuits.
Majer, S. Giacomo dell'Orio – Sestriere Santa Croce 1658, Venice (see the other branches on their website)
MEA LIBERA TUTTI
This little shop stocks a wide range of gluten free products, biscuits, cereals, breads, pasta and more. When you are strolling in Cannaregio district, do stop by Mea Libera Tutti! What also made worth the visit is that the  friendly owner gave up a list of suggestions on gluten free dining in Venice.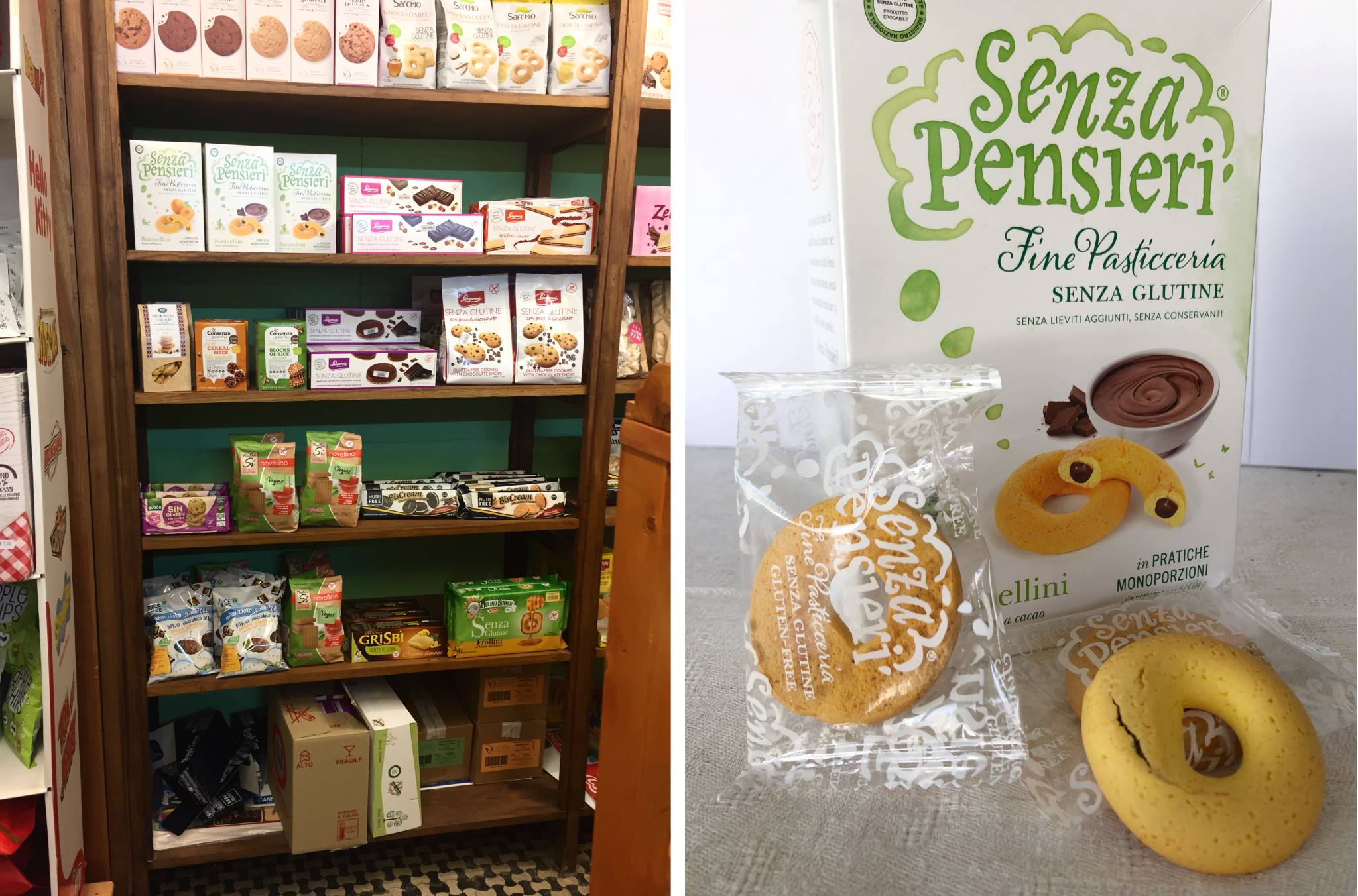 Mea Libera Tutti, Calle de la Racchetta 3762/63, Venice
LATTERIA RONCHI FRANCESCO
When coming to Venice, you cannot miss a visit to the Rialto market. Very close by are two shops with amazing selections of italian cheeses: Casa di Parmigiano and Latteria Ronchi Francesco. It is in the latter that we stock on the most delicious cheeses, cured meat and marinated olives before heading to the island of Murano. A must try!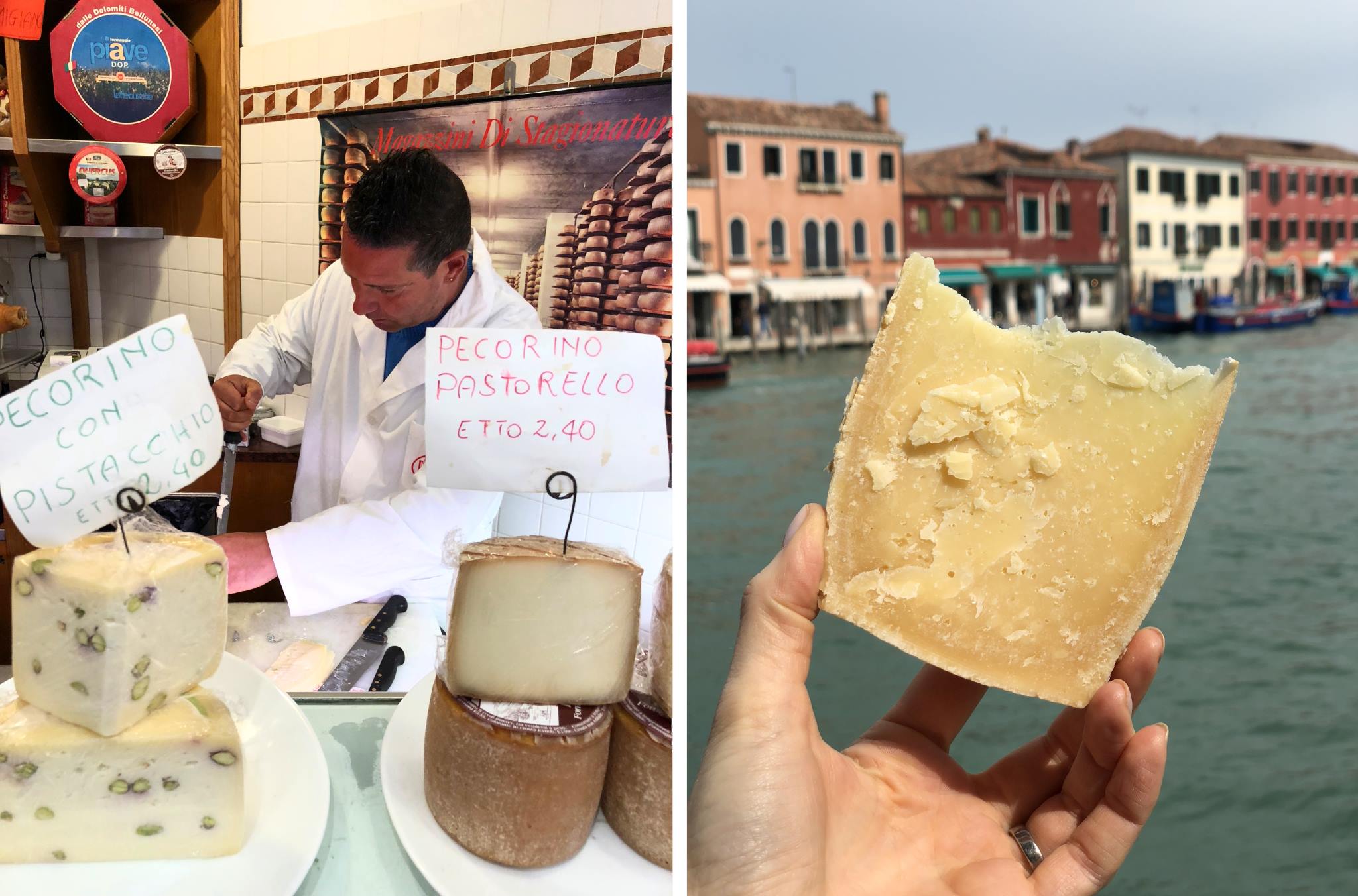 Latteria Ronchi Francesco San Polo 1053A, Venice, +39 041 523 0589
SPAR AND COOP SUPERMARKETS
One last tip: The local Spar or Coop supermarkets always feature a gluten free section! One Spar is well worth the visit, no matter whether you're hungry or not. The store is located inside an old theater with beautifully decorated walls and ceiling (Cannaregio 1943, Calle de le Pignate). Probably the only supermarket where you want to take pictures! 
Let me know in the comments if you test any of these places or if you visited other gluten free friendly eateries in Venice that you would recommend!