Have you ever tried purple cauliflower? I've come to truly enjoy cauliflower the day I roasted it in my oven. Purple cauliflowers are now popping up in our local markets, and I had to get one of those pretty veggies. Roasted sweet potato and cauliflower pair well as a colorful side dish, topped with sprouts and a flavorful tahini lime sauce. 
In case you wonder (I did my research), the vibrant purple color comes from an antioxidant also found in red cabbage or red wine.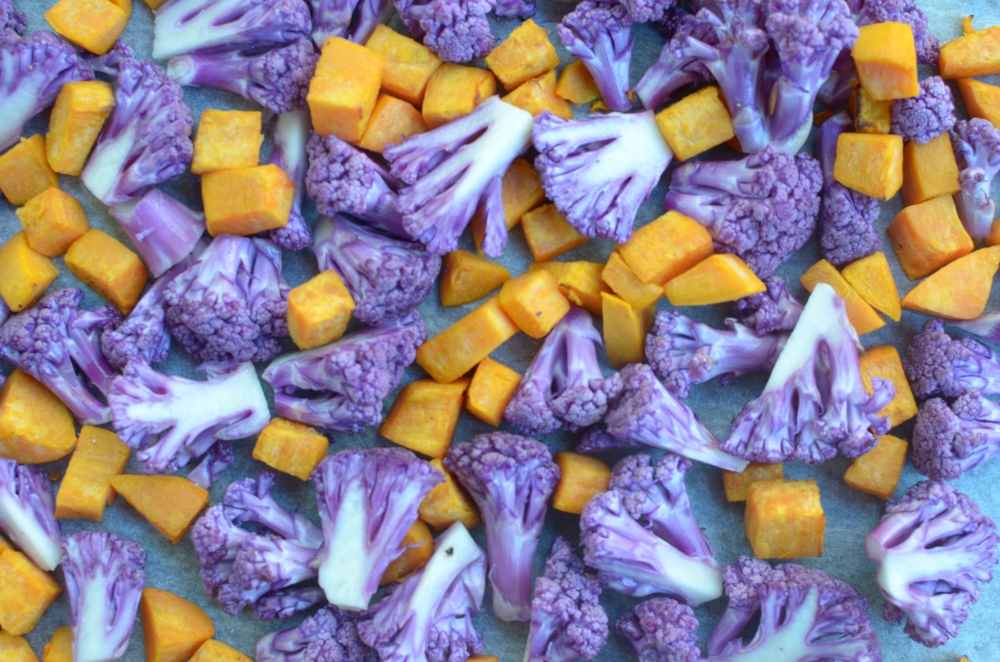 Roasting cauliflower brings out most of its natural sweetness, giving that appealing crisp-tender texture. The purple color does not fade in the oven! Creamy tahini sauce comes to add extra flavor boost, with cumin, garlic, fresh lime juice and chopped coriander. You can use it as a side dip.
Sprinkle your favorite sprouts to finish beautifully this roasted purple cauliflower and sweet potato dish. While I love how their bright green color look in contrast with orange and purple, sprouts are first a rich source of vitamins, minerals and antioxidants.
If sesame tahini is not your favorite dressing, you can make a simple herbs vinaigrette with extra virgin olive oil, few drops of lime juice, a pureed garlic clove, chopped coriander and/or chive, a pinch of salt and black pepper.

Roasted Purple Cauliflower & Sweet Potato With Tahini Lime Sauce
Roasted purple cauliflower and sweet potato pair well in this colorful side dish. Sprinkle with sprouts and dip in a creamy tahini lime sauce for extra flavor boost!
Author:
Chocolate & Quinoa
Cuisine:
Vegan, Gluten Free, Dairy Free
Ingredients
1 head of purple cauliflower, trimmed and cut into florets
1 medium sweet potato, cut into small cubes
Ground cumin
Sprouts (I used a mix of Japanese mustard, Pak choi and Sango sprouts)
For the tahini sauce:
2 tbsp sesame tahini paste
2 tbsp water
1 tbsp extra virgin olive oil
½ lime juice
1 garlic clove, pureed
1 tbsp agave syrup
½ tsp ground cumin
1 tbsp chopped coriander (or parsley)
Sea salt, Black Pepper
Instructions
Preheat oven to 180 degrees (convection mode) and line a baking sheet with parchment paper.
In a bowl, toss the diced sweet potato with 1 tbsp of olive oil, a pinch of ground cumin, salt and pepper. In a separate bowl do the same with the cauliflower florets: toss with 1 tbsp of olive oil, a pinch of ground cumin, salt and pepper.
Spread the sweet potato cubes on the parchment paper and roast them in the preheated oven for 10 minutes, before adding the cauliflower florets. Cook for 20 minutes more, until the sweet potato is tender and the cauliflower is slightly brown.
In the meanwhile, prepare the tahini sauce: Whisk together the tahini paste, water, pureed garlic clove, ground cumin, lime juice and agave syrup together, until the sauce has the consistency of a thick cream. Stir in the chopped coriander. Season with salt and pepper. Served as a dip. Enjoy!